Warning
: file_get_contents(): php_network_getaddresses: getaddrinfo failed: Name or service not known in
/var/www/wp-content/plugins/sharify/admin/sharify_count.php
on line
24
Warning
: file_get_contents(http://urls.api.twitter.com/1/urls/count.json?url=http://thesalesgoddess.com/2015/11/7-segments-in-needs-assessment-from-the-sales-goddess-demeter/): failed to open stream: php_network_getaddresses: getaddrinfo failed: Name or service not known in
/var/www/wp-content/plugins/sharify/admin/sharify_count.php
on line
24
Warning
: file_get_contents(http://www.linkedin.com/countserv/count/share?url=http://thesalesgoddess.com/2015/11/7-segments-in-needs-assessment-from-the-sales-goddess-demeter/&format=json): failed to open stream: HTTP request failed! HTTP/1.0 404 Not Found in
/var/www/wp-content/plugins/sharify/admin/sharify_count.php
on line
48
Throughout the history of sales training, many different processes have been taught and utilized. The prevailing body of wisdom has originated from male authors and typically, has been geared toward male salespeople. They didn't take into account the unique strengths of women, or the inhibitions that women may feel. How do you know which female leader is most authentically suited to either personify or assist you in your success in sales? That is where you can take the great Carl Jung's advice and understand their archetypes.
Jung believed that every story, every personality, and every character that has ever existed has assumed a role that is borrowed or worn, like an article of clothing, and then returned to the wheel of time. When it comes to assessing needs — the sales competency that I have always found most valuable in sales, I call on Demeter the primordial mother, the most archetypal 'Mama Bear' in Mount Olympus.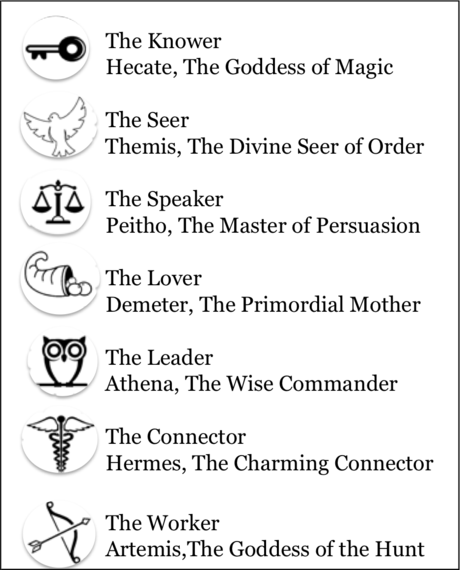 Needs Assessment
Think about everything that you already know about this customer's industry, their customers, their competition, their goals, and their organizational structure. Who are they? What do they need? How can you best deliver it to them? This phase of the sales process is universal among all methodologies. This is the time that you challenge yourself to come prepared with the right questions, understand what lies beyond what is being spoken, and clarify that information. You need to capture and use this information throughout your process.
You want to be able to imagine a day in their life. For so many years, I sold without a complete picture. It was as though I was covering one eye and one ear during meetings. I can't describe how much more effective and comfortable you will feel when you truly gain an understanding of the customer's perspective.
We can use the Goddess Model as a microcosm of not just how we function as salespeople but also how businesses function as living, breathing organisms. Therefore, categorizing your questions into the following segments will help you to think through each step of the business process:
The Worker:
• I'm curious to learn about your company history. Can you tell me about it?
• What information can I bring you to set us up in your system?
• Which credit terms are you most comfortable with?
• What is the typical lead time that you require for orders?
• Which department does your group report into?
• How many buyers are in your division? How many divisions are in your firm?
• I noticed that you have not purchased from our widget line since last spring. Is there anything that we can do to support your next order?
• What does your forecast look like?
The Connector:
• How long have you been with your company?
• Which industry were you in previously?
• Did you work with (such-and-such person) at your previous company?
• What type of trade shows do you attend? Can we meet at the upcoming show? Can I arrange a dinner for us at this fabulous restaurant near the convention? Can we include any of your colleagues?
• Who is your competition (if you can find out who they are beforehand, you might ask them to confirm)?
• Which trends impact your industry, positively or negatively?
• Which regulations most impact your company or industry?
The Leader:
• How are decisions made?
• When would you like to accomplish this (project/deal/product launch)?
• What is your product development (ideation, new services, production) process?
• What is your timeline?
• How were these decisions made in the past?
• Who makes the final decisions on new product development (new service agreements, etc.)?
• Which resources do you need to move this project forward?
• What time constraints are you up against?
• Is there seasonality to your business? Is there anything that I can do to best support your ramp-up for that season?
The Lover:
• Which values does your company care most about?
• Which values do you find most important in a supplier?
• What has worked really well in the past?
• What can we do to proactively best support this partnership?
• How did my company do as a supplier last quarter?
• What does your company value in a vendor?
• If your company had a vendor scorecard, which criteria would be on it?
• What have your favorite vendor salespeople done in the past to best support you?
• Might we be able to discuss safety stock or supply agreements to make sure that we get ahead of your needs?
• Can we arrange a conference call to talk through all options for your service support?
The Speaker:
• Can you help me understand the most desired situation for you and your company in relation to this project/product?
• Which aspects of this product/service are most important to you and your company?
• What is it about this particular aspect that is so meaningful?
• Which characteristics have set this product/service apart in the past?
• What would success look like?
• What would best help you differentiate?
• How do you define success?
• Is there anything that could prevent this project from moving forward?
• Is there anything that we can do to help avoid this issue?
The Seer:
• Are you publically traded?
• How is your stock doing?
• What are your short-term plans?
• What are your annual objectives?
• How do you segment your customers?
• How many products do you expect to launch this year for each segment?
• Which segment is the strongest of your business?
• What are the up-and-coming trends that you see for next year?
• What is your position in the market (market leader, second, one of many in a highly competitive market)?
• How do you differentiate yourself?
The Knower:
• What are your long-term (three- to five-year) strategies?
• What are your plans for global expansion?
• How do you see your target consumer evolving going forward?
• How can suppliers like me help best support you in these strategies?
• Might you be line-extending into different categories?
• What is your ideal?
• What was the founder's ideal?
• Out of curiosity, what types of charitable programs does your company support?
• Do you have any mentoring programs for your employees?
• What types of environmental efforts do you participate in?
• What types of community programs do you participate in?
• What other unique employee motivational programs might you have?
• Might you have any female and/or minority Leadership -building networks?
The next time that you need to assess and understand the needs of your customer, please remember Demeter, you friend and mine. Know that you too are a powerful Sales Goddess.
Rena Cohen-First is a Vice President of Sales and has been in the Food Ingredient Industry for the past 17 years, selling to the largest food and beverage manufacturers in the world. She has taught online business and leadership classes as an adjunct instructor, studied Professional and Executive Coaching, completed her MBA and Served in the US Army. She resides in San Diego with her two children and husband. Her goal is to show every woman that she can become a Sales Goddess in all circumstances. See more about Rena at: www.thesalesgoddess.com
Originally posted on Huffington Post: 7 Segments in Needs Assessment From the Sales Goddess Demeter
Image ID: 42033552
Copyright Sergey Khakimullin | Dreamstime.com
http://www.dreamstime.com/nexusplexus_info